Alan Partridge: Big Beacon
Regular price
Sale price
£75
Unit price
per
Title information

Published: Nov 30 2023
Pages: 304
0.0 kg
ISBN: 9781399623551
ASM
CAN
GUM
MNP
UMI
PHL
PRI
USA
VIR
View full details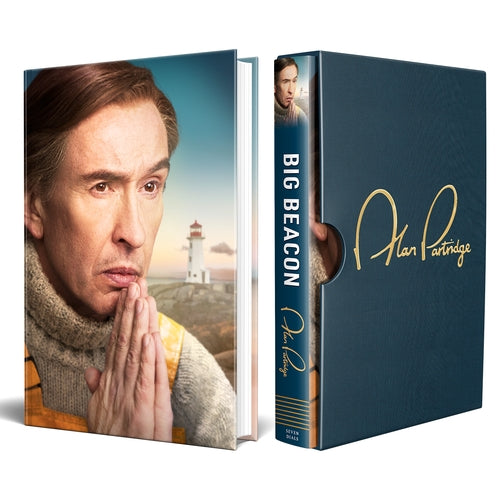 About the Deluxe Edition

Limited to 500 copies, each edition is hand-signed by Alan Partridge.

Includes a

special hardback edition of Big Beacon

, with alternative portrait artwork.

Exclusive memorabilia: a lighthouse cutout bookmark, a Pear Tree Productions pen, and a Big Beacon cotton tote bag.
Plus a set of four exclusive Partridge portrait postcards, held together with a lighthouse band.
Full colour photographic Partridge portrait endpapers.
Housed in a bespoke cloth slipcase, with foiled Partridge signature and lighthouse detailing.




In order to uphold territorial publishing rights, we are prohibited from selling or shipping this edition to: United States of America, Canada.
About Big Beacon

In Big Beacon, Norwich's favourite son and best broadcaster, Alan Partridge, triumphs against the odds. TWICE.




Using an innovative 'dual narrative' structure you sometimes see in films, Big Beacon tells the story of how Partridge heroically rebuilt his TV career, rising like a phoenix from the desolate wasteland of local radio to climb to the summit of Mount Primetime and regain the nationwide prominence his talent merits.




But then something quite unexpected and moving, because Big Beacon also tells the story of a selfless man, driven to restore an old lighthouse to its former glory, motivated by nothing more than respect for a quietly heroic old building that many take for granted, which some people think is a metaphor for Alan himself even though it's not really for them to say.*




Leaving his old life behind and relocating to a small coastal village in Kent, Alan battles through adversity, wins the hearts and minds of a suspicious community, and ultimately shows himself to be a quite wonderful man.




*The two strands will run in tandem, their narrative arcs mirroring each other to make the parallels between the two stories abundantly clear to the less able reader.