Garth Marenghi's TerrorTome
Dreamweaver, Doomsage, Sunday Times bestseller
Regular price
Sale price
£60
Unit price
per
Title information

Published: Sep 21 2023
Pages: 352
560 g
236 x 160mm
ISBN: 9781399724166
View full details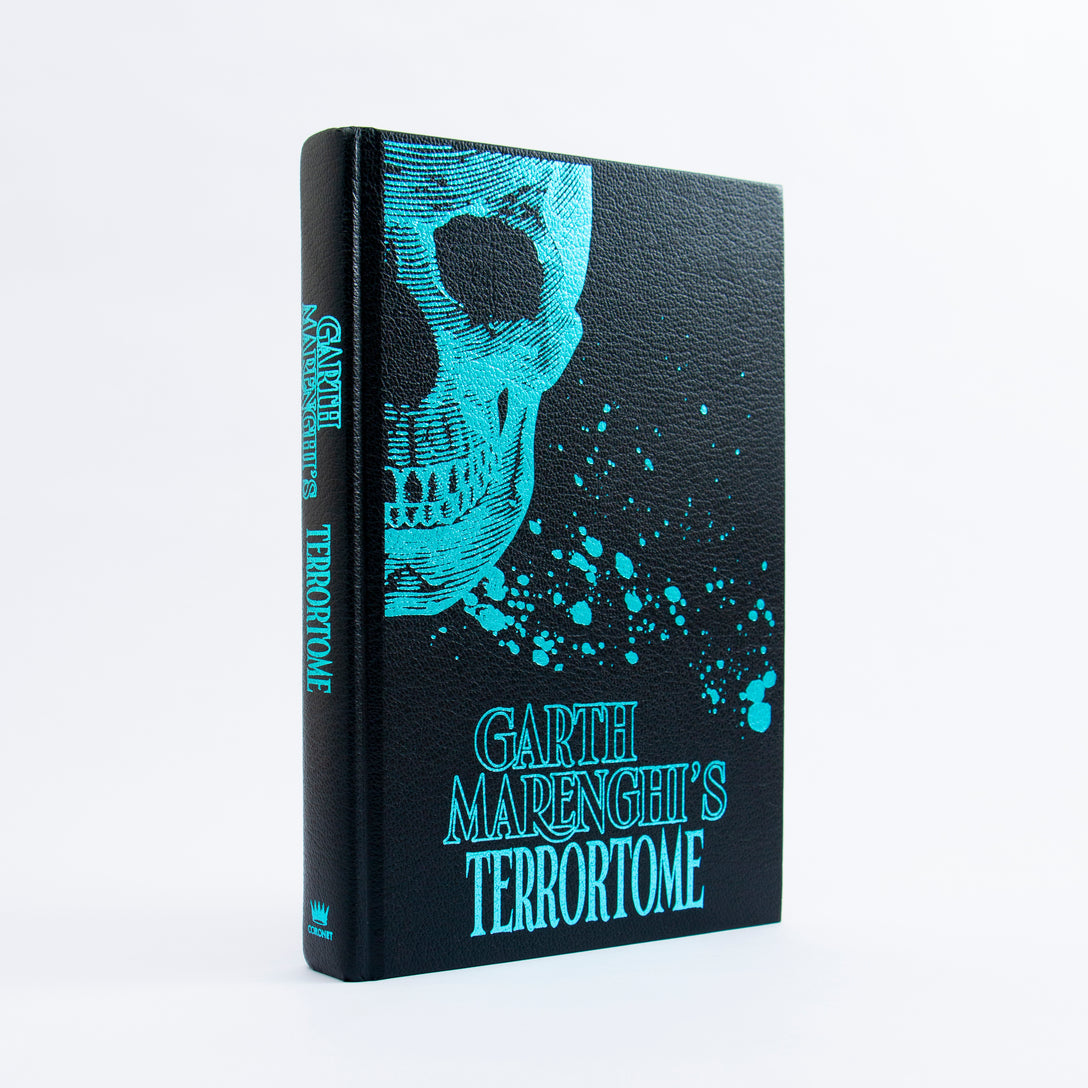 TerrorTome: The Collector's Edition

Garth Marenghi's TerrorTome, released to unanimous (nay, multiversal) acclaim in 2022, was not the original version of that work. Legend has it that there was an earlier text (legend is correct, btw); one that contained a story so horrid, so gruesome, that Hodder's initial printing was marked 'To be Pulped' and the manuscript subsequently revised to appeal to a weaker-minded and, frankly, staggeringly ill-informed general public.




Yet rumour has it (and rumour is also correct) that a limited number of these notorious TerrorTome first editions were stolen following a recent break-in at Hodder's distribution centre. The publisher therefore now feels duty-bound to issue a warning concerning these 'wholly unacceptable and morally bankrupt editions' bound in pleather for total reader satisfaction:




'Do not buy a copy of this incredibly rare and limited edition of Garth Marenghi's TerrorTome - however tempted you may be to read Garth Marenghi's exciting 'lost' tale of unimaginably shocking supernatural terror; however much you may crave an exclusive, cow-bound bookmark sporting a horrifying copyright-free image of a human skull, do not buy this book.' – Garth Marenghi
About the Collector's Edition

A specially produced, gloriously faux-leather bound edition of TerrorTome, complete with 'TO BE PULPED' sticker, and hand-signed by the author.
An exclusive new short (50 page) story from the Archduke of Darkdom himself.
An exclusive silver and black TerrorTome printed leather bookmark.
Limited to just 2,000 copies.



A note from Garth Marenghi

When I first penned my Sunday Times Bestselling horror novel in three parts, Garth Marenghi's TerrorTome, Hodder and Stoughton (mainly Hodder, if I'm honest) refused to publish one of the stories, 'Throttle & Bribes', accusing it of being cruel, exploitative and potentially offensive to human life, as well as supposedly wrecking the magical 'rule of three'. "A trilogy can't be a trilogy if there are four stories included, Garth," they said. "It can," I counter-said, "and it will."




However, once the initial batch had been printed (with faux-pleather binding for the horrotically adventurous among you), Hodder & Stoughton (again, mainly Ken Hodder and not Melinda Stoughton, though she can be tricky) refused to distribute them and in fact ordered the entire batch to be pulped. I immediately took matters into my own hands and drove said batch in the back of a white rental van to a storage depot in Luton, where I'm happy to say most of the books, though not all, survived several major leaks.




I now present to you, with full legal backing from a well-known firm of solicitors I have yet to consult, the full, unexpurgated version of Garth Marenghi's TerrorTome, a trilogy of horrifying tales now complete with their original missing story. Technically a 'quadrilogy', then, if that pleases Hodder. Which I doubt. Savour.
About Garth Marenghi

Garth Marenghi was born in the past, graduated from his local comprehensive (now bulldozed) with some O levels in subjects. He taught for nine years at his local library reading group before becoming a full-time horror writer. He has published numerous novels of terror (too numerous to list, nay count), over five hundred short stories, and has edited thirty anthologies of his own work, which have all received the Grand Master of Darkdom Award. He wrote, directed and starred in Garth Marenghi's Darkplace for the Peruvian market, which subsequently aired on Channel 4 and has not been repeated due to its radical and polemic content. He commenced work on TerrorTome during the late 1980s, continued on it alone and unaided by editors throughout the 1990s, and on into the early 2000s, then the mid-2000s, and has only now found a publisher brave enough to unleash its chilling portendings. He is an honorary fellow.
Related Products
Regular price

£160.00

Sale price

£139.00

Unit price

per

Regular price

Sale price

£60.00

Unit price

per

Regular price

Sale price

£100.00

Unit price

per